Bill Plemmons RV World Awards
Bill Plemmons RV has recieved many awards over the years
2019
RV Business Top 50 Award for Excellence
2018
RV Business Top 50 Award for Excellence
2017
RVIA 40 Under 40 Award – Shawna Plemmons
2017
RV Business Top 50 Award for Excellence
2015
Winnebago Circle of Excellence Award for Motorized
2017
Winnebago Circle of Excellence Award (both locations)
2017
Winnebago 20/20 Club for servicing transient customers
2016
RV Business Top 50 Award for Excellence
2016
Winnebago 20/20 Club for servicing transient customers
2016
Winnebago Circle of Excellence (Both Locations)
2016
Winnebago 20/20 Club for servicing transient customers
2015
Winnebago Circle of Excellence Award for Motorized
2015
Winnebago Circle of Excellence Award for Towables
2015
Top 50 Dealer Award Winner
2014
Winnebago circle of excellence (both locations)
2014
#1 Class C dealer in NC by stat surveys
2014
Winnebago 20/20 club for servicing transient customers
2014
Reader's choice 1st place winner best RV dealer by the Winston Salem journal
2014
Top 5 Blue Ribbon Dealer Award Winner
2013
Winnebago 20/20 club for servicing transient customers
2013
Jayco 5 year outstanding service award
2013
Reader's choice 1st place winner best RV dealer by the Winston Salem journal
2013
Winnebago circle of excellence
2012
Winnebago 20/20 club for servicing transient customers
2011
Winnebago 20/20 club for servicing transient customers
2011
Winnebago circle of excellence
2010
RV business top 5 blue ribbon award for excellence
2010
Winner of top 5 blue ribbon dealers award for the US & Canada. (pictured above)
2010
Winnebago PIE award winner. For most market share in region
2010
Winnebago top twenty dealer. Rural Hall and Raleigh locations
2010
Winnebago 20/20 club for servicing transient customers
2010
Winnebago circle of excellence for service customers to the highest standards
2010
KZ top 5 dealer nationally. Rural Hall location
2010
"KZ #1 dealer regionally, Rural Hall location"
2010
"KZ Top 5 realer regionally, Raleigh location"
2010
KZ Manufacturing outstanding service award
2010
Stag pars distributor top sales award
2009
RV business top 50 award for dealership excellence!
2009
Winnebago top twenty dealer. Raleigh location ranked 11th, Rural Hall location ranked 18th. Only Dealership to have two stores in the top 20.
2009
Winnebago 20/20 club for servicing transient customers
2009
Winnebago circle of excellence
2009
KZ Manufacturing outstanding service award
2008
Winnebago top twenty dealer east coast
2008
Winnebago 20/20 club for servicing transient customers
2008
Winnebago circle of excellence
2008
Stag top sales award
2007
National RVDA top quality dealer of the year (voted by other dealers & RV industry)
2007
Winnebago top twenty dealer east coast
2007
Winnebago 20/20 club for servicing transient customers
2007
Winnebago circle of excellence
2007
Gulf stream gold award for servicing customers (highest score in nation)
2007
Stag top sales award
2007
Stag lifetime value award (one of two second time winners)
2006
Winnebago top twenty dealer east coast
2006
Winnebago 20/20 club for servicing transient customers
2006
Winnebago circle of excellence
2006
Stag top sales award
2006
Gulf stream gold award for Servicing customers (highest score in nation)
2005
Winnebago circle of excellence
2005
Winnebago 20/20 club for servicing transient customers
2005
Winnebago top ten dealer east coast. Top twenty nationally
2005
Fleetwood circle of excellence customer satisfaction award
2005
Gulf Stream dealer of the year eastern region class A
2005
Stag top sales award
2004
Top top ten dealer east coast.Top twenty nationally
2004
Winnebago circle of excellence
2004
Winnebago 20/20 club for servicing transient customers
2004
Winnebago top ten dealer east coast. Top twenty nationally
2004
Fleetwood circle of excellence customer satisfaction award
2004
Stag top sales award
2003
Prowler top dealer
2003
Top ten dealer east coast. Twenty Winnebago nationally
2003
Stag lifetime value award (first one ever gave out)
2003
Winnebago circle of excellence
2003
Winnebago 20/20 club for servicing transient customers
2003
Stag top sales award
2002
#1 Hornet dealer (keystone) nationally
2002
Prowler top dealer
2002
Top ten dealer east coast. Top twenty Winnebago nationally
2002
Winnebago circle of excellence
2002
Winnebago 20/20 club for servicing transient customers
2002
Stag top award
2001
Top ten dealer east coast. Top twenty Winnebago dealer
| | |
| --- | --- |
| 2001 | Winnebago circle of excellence |
| 2001 | Stag top sales award |
| 2000 | Prowler top dealer |
| 2000 | #1 Dutchmen dealer |
| 2000 | Top ten dealer east coast. Top twenty Winnebago Dealer |
| 2000 | Winnebago circle of excellence |
| 2000 | Winnebago 20/20 club for servicing transient customers |
| 2000 | Fleetwood circle of excellence customer satisfaction award |
| 2000 | StagParkway outstanding accessory sales achievement |
| 1999 | #1 Dutchmen dealer |
| 1999 | Top ten dealer east coast. Top twenty Winnebago dealer |
| 1999 | Winnebago circle of excellence |
| 1999 | Fleetwood circle of excellence customer satisfaction award |
| 1999 | StagParkway outstanding accessory sales achievement |
| 1998 | Fourwinds international southeast region top 10 fourwinds class C motorhome dealer |
| 1998 | #1 Dutchmen dealer |
| 1998 | Winnebago circle of excellence |
| 1998 | StagParkway outstanding accessory sales achievement |
| 1998 | Quality dealer award presented to Bill Plemmons, Inc. as an outstanding provider of quality service to retail buyers of Fleetwood recreational vehicles milestone recognition $2,500,000 Fleetwood Corporation |
| 1997 | Winnebago circle of excellence |
| 1997 | Fleetwood circle of excellence customer satisfaction award |
| 1997 | StagParkway outstanding accessory sales achievement |
| 1996 | Winnebago circle of excellence |
| 1996 | Fleetwood circle of excellence customer satisfaction award |
| 1996 | StagParkway outstanding accessory sales achievement |
| 1995 | Prowler top ten dealer |
| 1995 | #1 Dutchmen dealer |
| 1995 | Fleetwood Enterprises-Fleetwood circle of excellence |
| 1995 | Winnebago circle of excellence |
| 1995 | Fleetwood circle of excellence customer satisfaction award |
| 1995 | StagParkway outstanding accessory sales achievement |
| 1994 | #1 Dutchmen dealer |
| 1994 | Fleetwood Enterprises-Fleetwood circle of excellence |
| 1994 | StagParkway outstanding accessory sales achievement |
| 1993 | Fourwinds top 20 class C dealer nationally |
| 1993 | Fleetwood Enterprises-Fleetwood circle of excellence |
| 1993 | StagParkway outstanding accessory sales achievement |
| 1992 | Chemical Financial Corp. Recognition and appreciation of outstanding support |
| 1992 | Fleetwood Enterprises-Fleetwood circle of excellence |
| 1992 | StagParkway outstanding accessory sales achievement |
| 1991 | Jamboree by Fleetwood top 10 dealers |
| 1990 | Chemical Financial Corp.-Recognition and appreciation for outstanding performance |
| 1990 | StagParkway outstanding accessory sales achievement |
| 1989 | Prowler by Fleetwood top 10 dealer |
| 1989 | Fleetwood RV group significant contribution to our first billion dollar year |
| 1988 | Jamboree by Fleetwood top 10 dealers |
| 1988 | Prowler top ten dealer |
| 1986 | Green tree million dollar club award $1,000,000 |
| 1985 | Starcraft sales achievement award |
| 1983 | Starcraft dealer excellence award |
| 1983 | Prowler top 10 dealer award |
| 1978 | Prowler certificate of appreciation for outstanding and dedicated service |
| 1976-1977 | Starcraft dealer excellence award |
| 1974-1975 | Starcraft dealer excellence award |
| 1974 | Volunteer top 5 dealer club nationally |
| 1974 | Norris top 5 dealer club nationally |
| 1974 | Midas RV top 10 dealer club nationally |
| 1972 | Smokey #1 dealer nationally |
| 1972 | Norris top 5 nationally |
| 1972 | Volunteer number 1 dealer nationally |
| 1972 | Midas RV number 1 dealer nationally |
| 1971 | Volunteer top 5 dealer club nationally |
| 1971 | Smokey top 5 dealer club nationally |
| 1971 | Norris top 10 dealer club nationally |
| 1971 | Midas RV top 10 dealer club nationally |
| 1971 | Serro Scotty dealer award top sales and service nationally |
| 1970 | Norris top 10 |
| 1968 | Norris volunteer smokey top 10 dealer |
RVBusiness Names Winners of 2017 Top 50 Dealer Awards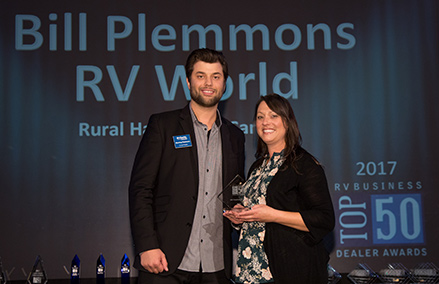 This year's roster of RVBusiness Top 50 Dealer Award recipients has been released this week by RVBusiness magazine and its marketing partner BJ Thompson Associates. All of those U.S. and Canadian retailers are to be publicly recognized on stage again this year at a gala Nov. 8 awards reception during the Recreation Vehicle Dealers Association International Convention/Expo co-hosted Nov. 6-10 by the U.S. Recreation Vehicle Dealers Association and RVDA of Canada at Bally's in Las Vegas.
"We're pleased not only with the general esteem with which a 'Top 50' dealer logo is now held by marketing-minded dealers and a growing array of consumers, but also as a respected benchmarking tool for participating retailers," said RVB Publisher Sherm Goldenberg. "This whole program has developed into a rather interesting source of self-analysis for RV dealers who are prompted by the questions in a detailed application to look in the mirror at their own operations and the opportunities and issues they and the rest of the industry face – even during this current upbeat market."
In fact, as BJ Thompson pointed out, the 10-person panel of independent industry people that met to review the applications in early September at the RV/MH Hall of Fameindicated that they were impressed at the applicants' overall approach to a series of topics that repeatedly surfaced throughout their responses. Among them were the challenges of locating and training service technicians, an increased attention to service issues, the growing embrace of technological change, the ongoing debate over parts availability, the current push for improved PDI and product quality control, and the adoption of new advertising formats and communication tools – i.e. social media.
Here (in alphabetical order) is a rundown of this year's honorees in an industry-wide program sponsored by Ally Financial Inc., Cummins Power Generation, Airxcel's Dicor Corp., Dometic Corp., Freightliner Custom Chassis Corp., Lippert Components Inc., NTP-STAG, Protective Asset Protection, Truma and Wells Fargo CDF.
Singled out for their exemplary performances are five "Blue Ribbon" honorees, including Colerain Family RV, Hartville RV Center, Veurinks' RV Center, Voyager RV Centre and Walnut Ridge Family RV Sales.
Receiving special recognition, meanwhile, will be Lazydays RV, recipient of the "Arthur J. Decio Humanitarian Award" sponsored by Ally Financial for a dealer excelling in charitable endeavors, and Manteca Trailer & Motorhome, which is to be recognized for its creative business strategies with the "Gaylord Maxwell Innovation Award" by Lippert Components Inc.
Affinity RV Service, Sales & Rentals – Prescott, Ariz.
Alliance Coach – Wildwood, Fla.
Alpin Haus – Amsterdam, N.Y.
ArrKann Trailer & RV – Edmonton, Alberta (CAN)
Big Country RV – Bend, Ore.
Bill Plemmons RV World – Rural Hall, N.C.
Bill Plemmons RV earns circle of excellence award
Winnebago Industries established the industry's first dealer excellence program in 1986 in order to recognize select dealers for excellence in customer satisfaction. To be recognized with this prestigious honor, Bill Plemmons RV was recognized for their excellence in customer satisfaction as it relates to the customers' sales and service experience.
"We are pleased to recognize Bill Plemmons RV as a circle of excellence recipient," said Winnebago Industries' general sales manager Dennis Shaw. "In receiving this prestigious award, Bill Plemmons RV has taken their place as one of the best of the best with a proven commitment to providing excellent customer service to our retail customers. We truly value our partnership with Bill Plemmons RV and congratulate them on their knowledgeable sales personnel, qualified service technicians and quality warranty and aftermarket service support for our customers."